JULY 4TH PARADE & CELEBRATION • JULY 4, 2023
The Town of Franklin, North Carolina invites you to our Independence Day Parade & Celebration on Tuesday, July 4th beginning at 11:00 a.m.
You can be part of Franklin's Annual Patriotic Parade at 11:00 a.m. While you go most places to see a parade, we actually invite you to participate! Deck out in red, white and blue and walk or drive down Main Street. NO REGISTRATION IS REQUIRED. To join in, just be in the lower level of Franklin Town Hall for lineup beginning at 10:30 a.m.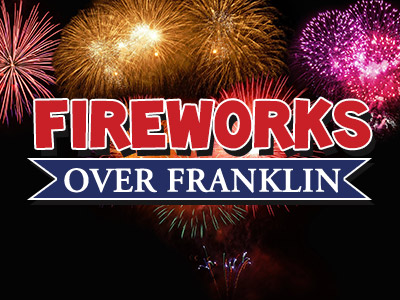 The Town of Franklin is pleased to announce "Fireworks Over Franklin" will return in 2023! "Fireworks Over Franklin" will again be held on Highlands Road across from the Shops at Riverwalk, formerly the East Franklin Shopping Center. This is a park & watch event. The show begins at 9:30 p.m. on Tuesday, July 4, weather permitting. (A rain date will be announced later).
Fireworks Over Franklin this year will be all new and even more spectacular. The Town is excited to be working with Deep South Fireworks LLC of Macon, Georgia for a custom display that is sure to stir your patriotic spirit! So make plans now to join with us!
Presented by the Town of Franklin with financial support from the Franklin/Nantahala Tourism Development Committee.